For a Better World
Published on 02/20,2009
Ana Milošević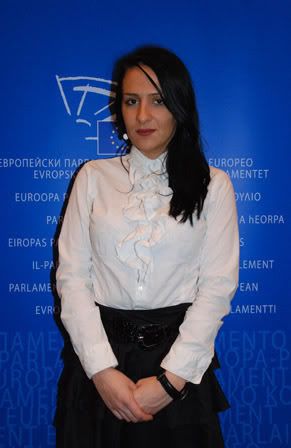 For a Better World



A book for me is like a husband or a wife: You have to look at it in a depth before taking it home! Otherwise You'll be in trouble… The books are the window to other dimension, to the worlds long forgotten, hard to imagine…they give us insight to the most intimate thoughts and wishes, fears and doubts, joy and happiness of a writer, of ourselves.

A book has the ability to transcend both time and place. It can take the reader to a different world that, although unfamiliar, presents issues that any reader can relate to in one way or another. By being able to relate to literary characters, cultural barriers dissolve and the reader may find that the world is suddenly open to thousands of possibilities that were never before imagined!

I salute this noble initiative started by Madam Sentic, who wholeheartedly dedicated herself to this mission that every village has its own library. As artist, she readily managed to recognize the importance of art and literature as essential elements and companions of child development. Let us join her in this cultural crusade! By giving only one book we can humbly contribute to better childhood of children in Serbia. By donating only one book, these children will be one step closer to the world they never knew it exists, the world of dragons, fairytales, princess, kings and ancient cultures, giants and far away islands...the world that we too, cherish and treasure deep inside.





SO I HAVE WRITTEN
And always spoken for ART
For BETTER WORLD
Let Us spread the WORD